Our Team
Jordana Szpiro, DPM, FACFAS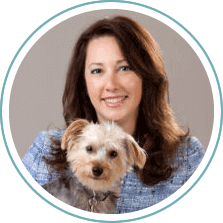 Jordana Szpiro, DPM, FACFAS
Dr. Jordana Szpiro, DPM, FACFAS was raised in Southern California. She obtained her Bachelor of Science in Biology from the University of California at Irvine. After graduating, she went on to receive her Doctorate of Podiatric Medicine from the California College of Podiatric medicine. Dr. Szpiro then completed her residency at Weill Medical College of Cornell University in New York City. During her residency, she advanced her education in the surgical management of common foot disorders including bunions, bone spurs, neuromas, and heel spurs.
As an established Boston podiatrist, Dr. Szpiro is board certified in Foot Surgery and has been practicing for over 24 years. She is a Diplomate of the American Board of Podiatric Surgery and a Fellow of the American College of Foot and Ankle Surgeons. Dr. Szpiro is a frequent lecturer and has spoken at various events, such as the APMA Annual Scientific Meeting where she discussed the use of lasers in treating toenail fungus. She will soon be discussing Sports Medicine at one of Boston's prominent athletic clubs. Dr. Szpiro is affiliated with Beth Israel Deaconess Medical Center, Hallmark Health, Mt. Auburn Hospital, Cambridge Health Alliance, Melrose Wakefield and Lawrence Memorial Hospital in Medford.
Dr. Szpiro has accumulated extensive clinical and surgical experience throughout her career and is knowledgeable in working with patients of all ages. Living an active lifestyle herself through ballet, running, squash and skiing/snowboarding, she is particularly sensitive to the toll that athletic activities can take on one's feet. Dr. Szpiro hopes to take her experiences and apply what she's learned to providing patients with comprehensive and quality care. She also sees children and pediatric patients.
Maria Bolla, DPM, AACFAS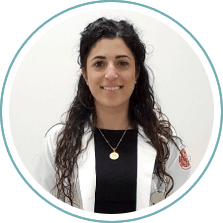 Maria Bolla, DPM, AACFAS
Dr. Bolla was born in an island in the northeastern Greece, called Chios. She first became interested in medicine at the age of seven. This led her to attend Aristotle University of Medicine in Thessaloniki, Greece. She decided to study in the US since her biggest dream was to become a physician in the States and continue her education. After completing four years of medical school in Greece she decided to transfer to an undergraduate institute and start her pre-medical training. Therefore she attended Simmons College in Boston for her undergraduate studies that she completed in two years with a Bachelor of Science in Biology.
She afterward attended New York College of Podiatric Medicine for her medical training. Her experiences in medical school and external rotations eventually led her to attend the residency program at Boston University Medical Center. She had the privilege and great fortune of training under some of the most distinguished surgeons and diagnosticians during her residency at Boston Medical Center and has continued the tradition of teaching the art of Medicine to the incoming classes of residents and students, through series of lectures and presentations.
It is however her professional demeanor, her empathy, her passion and compassion towards patients, as well as her ability to seamlessly work and communicate with Physicians of all medical and surgical disciplines, that has earned her the distinction of the Chief resident of the department of Podiatry at Boston Medical Center and the stellar recommendations by her peers.
Over the years, Dr. Bolla has demonstrated a passion for research in various fields and disciplines of medicine, ranging from Neurology and Alzheimer's disease, to ischemic limb preservation and surgical reconstruction of forefoot and rearfoot pathologies.
An avid runner and a championship level swimmer, Dr. Bolla has a special interest in treating acute, as well as chronic foot and ankle injuries of the athletic population.
Nonetheless, her extensive training and exposure to the latest innovations in the treatment of lower extremity pathologies, has afforded her the comfort and expertise to accurate evaluate and effectively treat lower extremity ailments of all age groups, ranging from congenital deformities of the pediatric foot and ankle to acquired conditions of the adult and geriatric lower extremities. She welcomes children and pediatric patients.
Maghan Francoeur
Practice Manager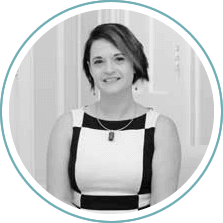 Maghan Francoeur
Practice Manager
Ms. Francoeur is the practice manager and oversees office procedures and marketing. Prior to joining Boston Common Podiatry, Ms. Francoeur was an executive assistant at Clifford Projects and before that she was the office manager at Crescent Heights, in Honolulu, Hawaii. She brings her skills in office management, customer service and marketing to the Boston Common Podiatry practice.
Michael Rivera
Medical Assistant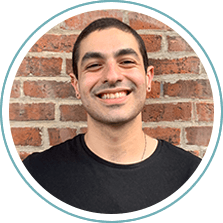 Michael Rivera
Medical Assistant
Michael is currently a rising fourth year at Northeastern University studying behavioral neuroscience and design with a concentration in graphic design. In his spare time, Michael enjoys painting, thrifting at vintage markets, and working out.
Some procedures he performs include Shockwave Therapy (EPAT), medical pedicures, and Keryflex.
BOSTON COMMON PODIATRY, MEDICAL ASSISTANT TEAM
Our team of Medical Assistants carry out both clinical and administrative tasks to ensure that the practice is running smoothly. Many of our Medical Assistants are students who are interested in pursuing careers in the medical field. We provide our team of Medical Assistants with clinical training and experience in health care administration that can be used to further their careers.
Come Visit Out Foot Doctor in Boston, MA!
We accept most insurance plans and welcome new patients!
Call today and get back on your feet! Boston at (617) 286-5163.