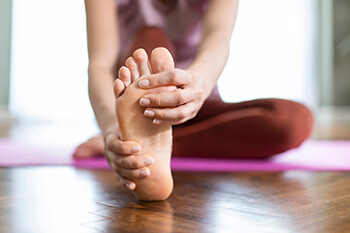 The first metatarsophalangeal, or MTP, joint replacement is also known as great toe joint replacement or great toe arthroplasty. This procedure is conducted to address arthritis in the main joint of the big toe. This joint generally experiences a lot of stress from activities like walking, running, and wearing high heels. Arthritis in this joint can cause pain and stiffness, especially with a condition called hallux rigidus. The traditional treatment for this problem is joint fusion, which eliminates pain but limits movement. Joint replacement offers an alternative, but it has been less successful than replacements in larger joints due to the high force placed on the toe. Different types of implants are available, including caps for the metatarsal head, full joint resurfacing, and newer rubber bumper implants. Recovery varies based on implant type, with a typical six-week rest period. If you have arthritis in your big toe, it is suggested that you make an appointment with a podiatrist who can see if you qualify for joint replacement and educate you on the process.
In certain cases, in which the patient suffers from extreme pain or damage in a joint, joint replacement surgery may be deemed useful. If you have constant pain in a foot joint, consult with the podiatrists from Boston Common Podiatry. Our doctors will assess your condition and provide you with quality foot and ankle treatment.
What Is Joint Replacement Surgery?
Over time, joints wear down; this can be exacerbated by diseases and conditions. Joint replacement surgery, also known as arthroplasty, is when a damaged joint is surgically removed and replaced with a prosthesis. Prostheses, which can be made of ceramic, plastic, or metal, act as joints in lieu of an actual joint. One of the most prevalent causes for joint replacement is arthritis.
Arthritis in the Foot
Arthritis can occur in any joint in the body, including in the feet. Common types of arthritis in the foot are osteoarthritis, rheumatoid arthritis, and gout. The big toe is usually where arthritis occurs in the foot; this is known as hallux rigidus.
Joint Replacement Surgery in the Foot
The most common form of joint replacement in the foot is a first metatarsophalangeal (MTP) joint placement. MTP joint replacement surgery is designed to treat hallux rigidus. Surgery is not intensive, and recovery occurs within one to two months after the procedure has been done. Overall, joint replacement surgery is a safe and effective way to treat pain in the joint of the foot.
If you have any questions, please feel free to contact our office located in Boston, MA . We offer the newest diagnostic and treatment technologies for all your foot care needs.
Read more about Joint Replacement Surgery